Product Summary
The AD633JNZ is a functionally complete, four-quadrant, analog multiplier. It includes high impedance, differential X and Y inputs and a high impedance summing input (Z).
Parametrics
Absolute maximum ratings: (1)Supply Voltage:±18 V; (2)Internal Power Dissipation:500 mW; (3)Input Voltages: ±18 V; (4)Output Short Circuit Duration: Indefinite; (5)Storage Temperature Range:–65℃ to +150℃; (6)Operating Temperature Range:0℃ to +70℃; (7)Lead Temperature Range (Soldering 60 sec): +300℃; (8)ESD Rating:1000 V.
Features
Features: (1)Four-Quadrant Multiplication; (2)Low Cost 8-Lead Package; (3)Complete—No External Components Required; (4)Laser-Trimmed Accuracy and Stability; (5)Total Error Within 2% of FS; (6)Differential High Impedance X and Y Inputs; (7)High Impedance Unity-Gain Summing Input; (8)Laser-Trimmed 10 V Scaling Reference.
Diagrams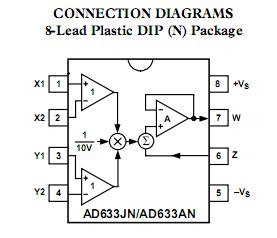 Image
Part No
Mfg
Description
Pricing
(USD)
Quantity

AD633JNZ



IC ANALOG MULTIPLIER 8-DIP

Data Sheet



| | |
| --- | --- |
| 0-1: | $5.50 |
| 1-10: | $4.95 |
| 10-25: | $4.51 |
| 25-100: | $4.07 |
| 100-250: | $3.74 |
| 250-500: | $3.41 |
| 500-1000: | $2.97 |
| 1000-2500: | $2.93 |

Image
Part No
Mfg
Description
Pricing
(USD)
Quantity

AD633ANZ



IC ANALOG MULTIPLIER 8-DIP

Data Sheet



| | |
| --- | --- |
| 0-1: | $5.50 |
| 1-10: | $4.95 |
| 10-25: | $4.51 |
| 25-100: | $4.07 |
| 100-250: | $3.74 |
| 250-500: | $3.41 |
| 500-1000: | $2.97 |
| 1000-2500: | $2.93 |


AD632AD



IC MULTIPLIER MONO PREC 14-CDIP

Data Sheet



AD632ADZ



IC MULTIPLIER MONO PREC 14-CDIP

Data Sheet



| | |
| --- | --- |
| 0-1: | $25.66 |
| 1-10: | $23.99 |
| 10-100: | $20.80 |
| 100-250: | $19.41 |
| 250-500: | $18.49 |


AD632AHZ



IC PREC MULTIPLIER MONO TO100-10

Data Sheet



| | |
| --- | --- |
| 0-1: | $12.28 |
| 1-10: | $11.36 |
| 10-100: | $9.70 |
| 100-250: | $8.90 |
| 250-500: | $8.47 |
| 500-1000: | $8.19 |


AD632BD



IC PREC MULTIPLIER MONO 14-CDIP

Data Sheet



AD632BDZ



IC MULTIPLIER MONO PREC 14-CDIP

Data Sheet



| | |
| --- | --- |
| 0-1: | $37.53 |
| 1-10: | $35.25 |
| 10-100: | $31.84 |
| 100-250: | $30.33 |